Merdeka is always celebrated by us because it is a day of significance and I want my children to grow up being proud of Malaysia, proud to be Malaysians and not be bullied into thinking anything else. It is our homeland. We are Malaysians. Yes, we are stupid in many ways but only because the Government makes us so. But if we instill good values into all our children from young to be MALAYSIANS and not allow the people with agendas to brainwash us, we have a good generation of kids to take over the country to make way for a better Malaysia. We don't need leaders. If we were all good citizens, the country runs by itself in harmony.
Let there be love. Let there be sharing. Learn to forgive.
Let go and be filled with only positivity.
Inspire those around you and be inspired.
Let us together build a better world for our kids…………
So for Merdeka this year, we had a little Merdeka playgroup. It started off on the eve of Merdeka, where T1 helped draw out a dozen masks with the plan for everyone to be Merdeka Super Heroes bearing the Malaysian flag on the masks. Bless my child, she also helped me with peeling tons of onions and garlic, mushrooms, washing salad leaves, grating tons of cheese, cutting bananas, stirring butter into biscuit and mashing Digestive biscuit for my Banoffee Pie. I couldn't have done it without her because the helper was on Raya Leave.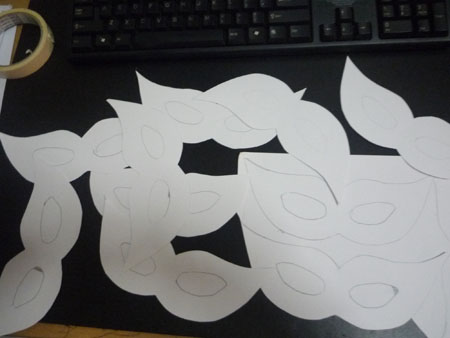 We invited a few simple friends round for a simple meal to celebrate Merdeka. It just doesn't get any better. But before the eve of Merdeka ended, T2 couldn't help herself and insisted on being the Merdeka Super Hero already. Late into the night, she was still prancing about in her super hero mask, making us laugh till we stitched.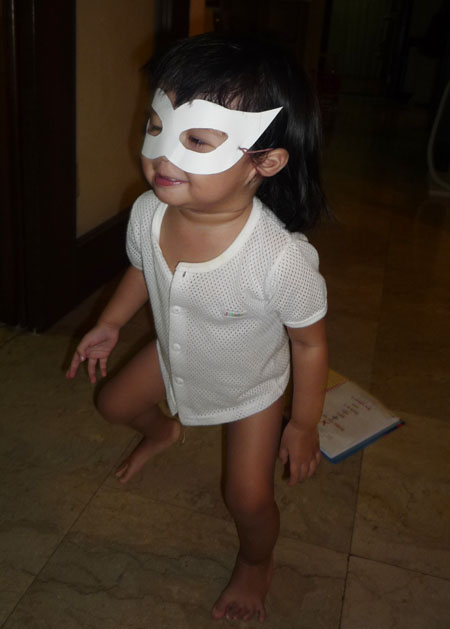 The next morning at 7am, the kids were up asking when our guests were arriving. But before that, I had my running coach and his gay sidekick kick my butt to work that treadmill for 3 kilometres. Just as well, because it was a thousand calorie lunch…….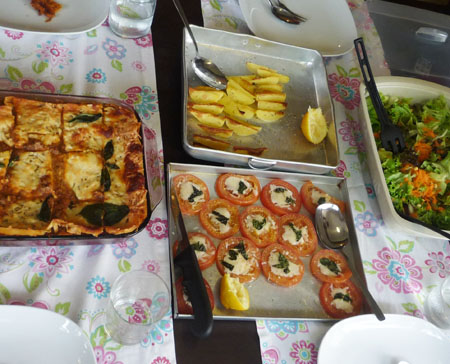 Baked potatoes with cheddar and basil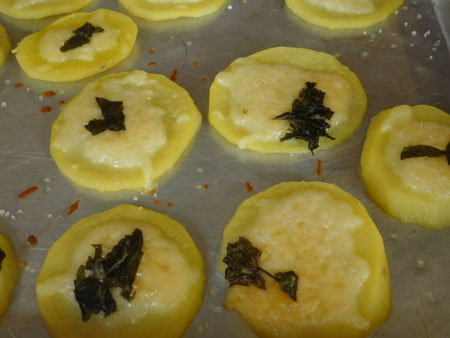 .
Lasagna Al Forno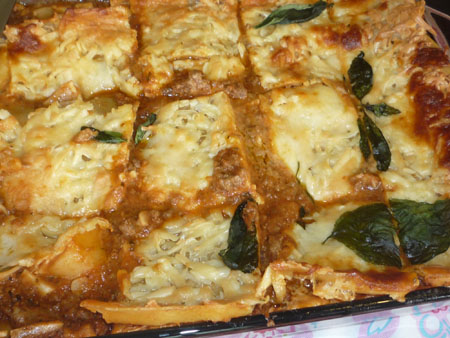 .
Baked Potato Wedges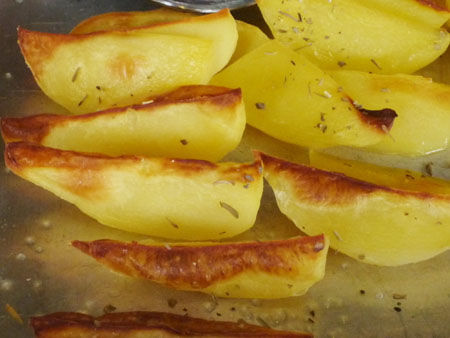 .
Baked Tomatoes with Mozzarella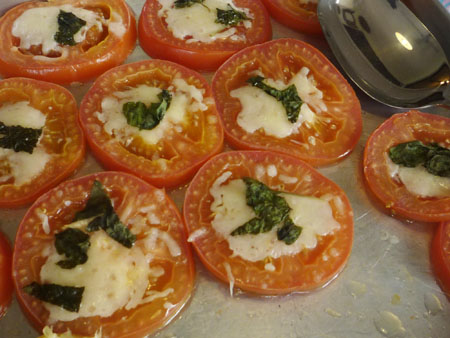 .
SALAD!!!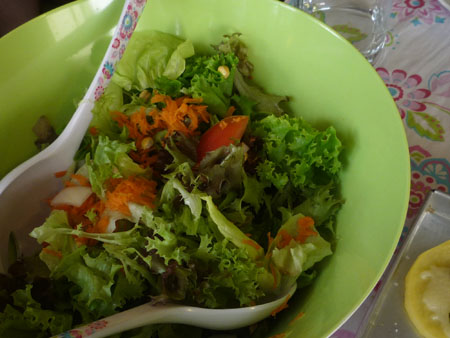 .
DESSERT!!! Which was a Merdeka chocolate flourless cake baked by our guest and Banoffee Pie made by yours truly.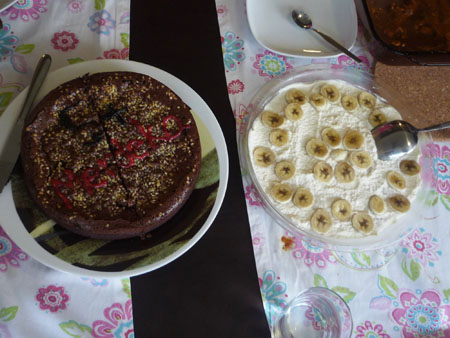 .
I was mighty pleased because we wiped everything clean. There were 9 adults and 7 kids and nothing was left. Easy to wash dishes 🙂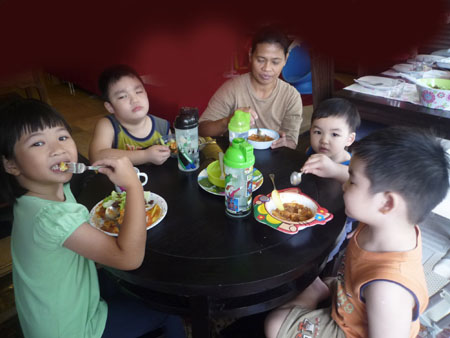 .
After lunch, T1 and B1 were made to sing the National Anthem in the spirit of MERDEKA!!! See? We're training them to be good citizens already, hands on their hearts……..tanah tumpahnya darahku. Check back in 30 years.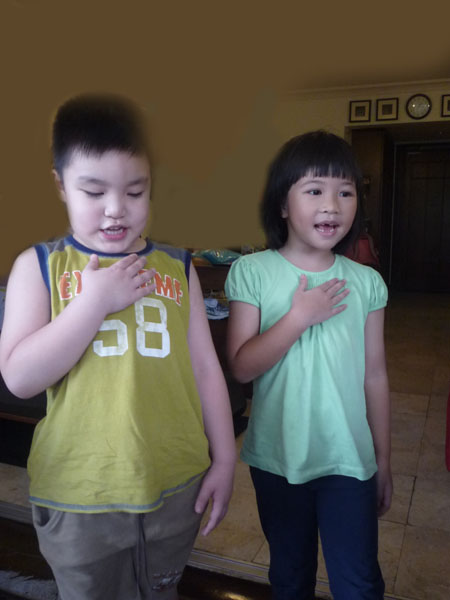 .
T1 and B1 rendering their rock version of Negaraku……with their Merdeka super hero masks, all self-designed.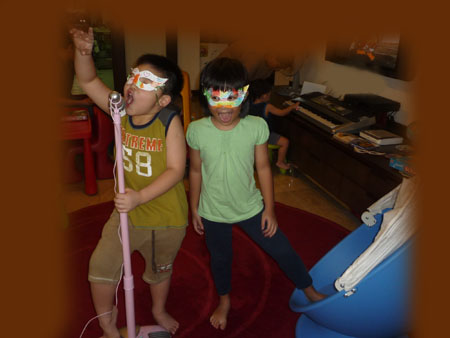 .
Our Merdeka Super Heroes……..2 missing because they arrived late.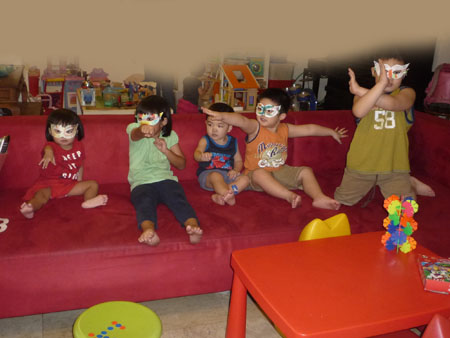 .
Look at this pretty girl's mask. She had to colour her mask twice because the Merdeka Mama San accidentally tore her mask!!! And when she coloured it again the 2nd time round, it was exactly the same colours and design! She sure knows what she wants with HER mask!!!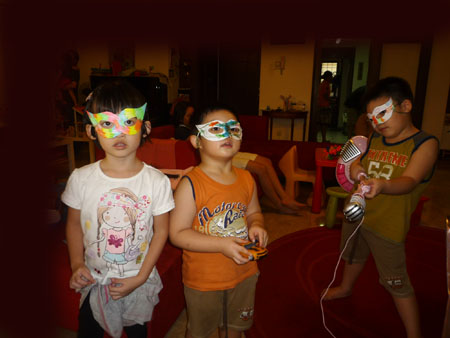 .
We finally managed to round up the kids quietly in one location. How? By serving them a bowl of M&M's!!! You should have seen them. It was the babies who were chugging them down like they were H2O. Especially T2. I made T1 count and T2 had stuffed eleven M&Ms into her wee lips within a matter of seconds.
We removed the bowl soon after for fear of M&M overload.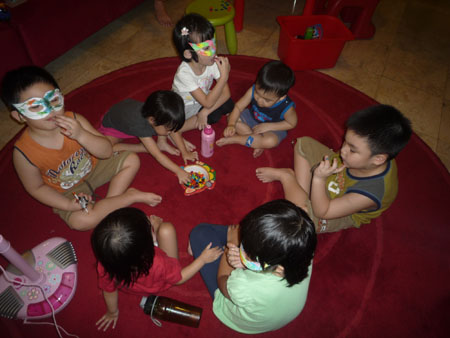 It was a fabulous gathering and we thoroughly enjoyed ourselves.
Happy Merdeka to one and all!!! HAVE FAITH!!!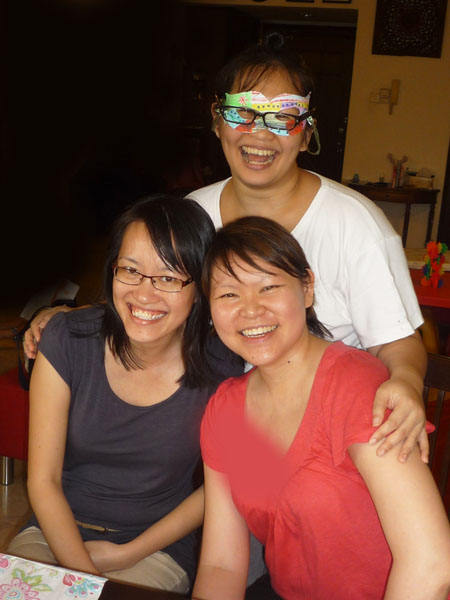 **************************************************************************
Who is Mamapumpkin?
Mamapumpkin spent 7 years in London committing crimes to gain her Bartlett BSc in Architecture. She spent 7 years as a Stay At Home Mom raising her children as documented in this Mamapumpkin blog since over 10 years ago and thereafter returned to the Corporate World stronger than ever. Her last job as Country Director of a British Railway Signalling organisation saw her getting ill with an aortal and mitral heart valve regurgitation and early stage cancer. Through her journey from working to not working to working again, she sets out to prove to all women that they can do anything and everything that they set out to do; as long as they have that fire of desire burning within and the drive to work hard. Even better with oodles of love, passion and integrity.
Despite being ill, she has grown a network marketing business from very little knowledge and experience in the otherwise infamously known MLM (Multi-Level Marketing) industry, racing from an income of ZERO to RM 100,000 monthly in merely 2 years. She is a firm believer of the MLM business model but realises the pitfalls too and understands how and why the majority of people would shy away (or zoom far away) from any MLM business.
She is now pondering the title of her new book, From Zero to 100,000 RM monthly in 2 years and has a sequel in the pipeline with the aim of helping real professionals succeed in the World of MLM. Always the giver, Mamapumpkin has supported orphans for over 30 years and has now extended her care to the sick, single mothers, and even struggling families. She believes that with the MLM business model, we can all have a life of our own desires to enable real contribution into the world.
A beautiful life without limits.
Mamapumpkin currently manages the
Homeschooling Hub Malaysia on Facebook
. She also runs
Working Women Malaysia
(not THAT kind of Working Women!),
Mamapumpkin - Creating A Life of Abundance
, and Funky Moms on Facebook to offer REAL support to all women who want career and life success. She is a living testimony that women really can have a lot. Being financially free has enabled her to travel the world anytime anywhere doing anything, and she spends most of her day to day with her children, reading and supporting other women.
For enquiries, please contact her at mamapumpkin at gmail dot com or WhatsApp her at +6012-2333840
Show your support and spread the love!