Have you ever come across them? Don't you just hate it when you've found prime, CHEAP parking in KL right in front of your destination and suddenly realise you can't get a damn ticket?
One week, I had to go to BV practically every morning for some reason or other. I am so ashamed that BV is my second home. It really is, what a life!
Anyway, with baby in tow bright and early when it is possible to get CHEAP parking, I got my prime spot.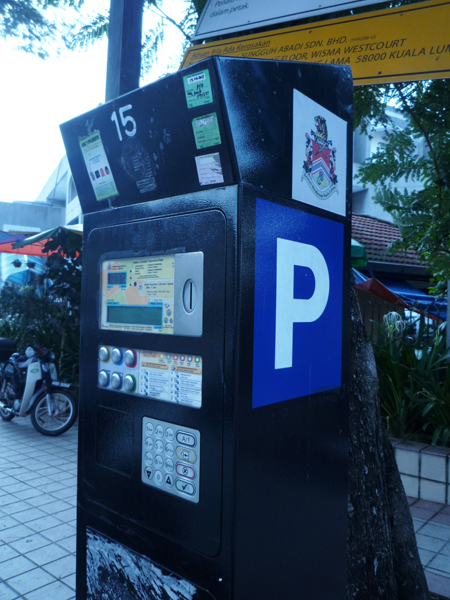 And then couldn't get my ticket. I looked around for the next parking machine and walked ALLLLLLLLL the way there carrying baby and then walked ALLLLLLLLL the way back to put the damn ticket into the car. Then instead of strutting in a huff straight to my destination, I picked up the phone and called the parking machine people to tell them to FIX the thing.
Now how many Malaysians really do that? How many people really care enough to make a report of a water leak from the public drain or call DBKL to fix up a manhole that's gotten its cover stolen?
Well, I'm the sucker who's always making these God damn calls?!!!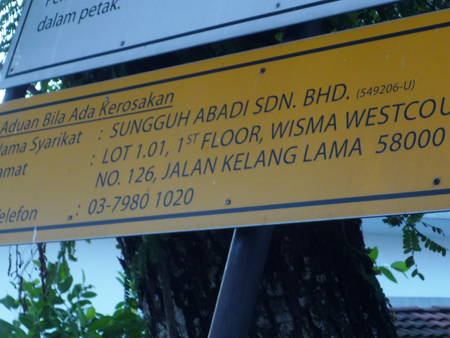 I do it because I love my country and I believe that it takes effort to make things work and so I do my part. If I lead by example, hopefully people will re-consider their lackadaisical attitudes and start being more responsible. But mostly, I do it for my children. I not only want them to learn the right thing to do (despite everyone else NOT doing it), I want them to have a better place. To make change, one has to start within. Effect change with baby steps. Gosh, that does sound preachy, doesn't it? Sorry, not intended.
At 815am, I called the bloody number on the signboard that couldn't even stand straight (which reminds me, did anyone read about the huge highway road signboard that fell near KLIA this week?). Nobody answered. I must have called at least 7 times with it ringing to the end before I got some response. What time do these guys start work again?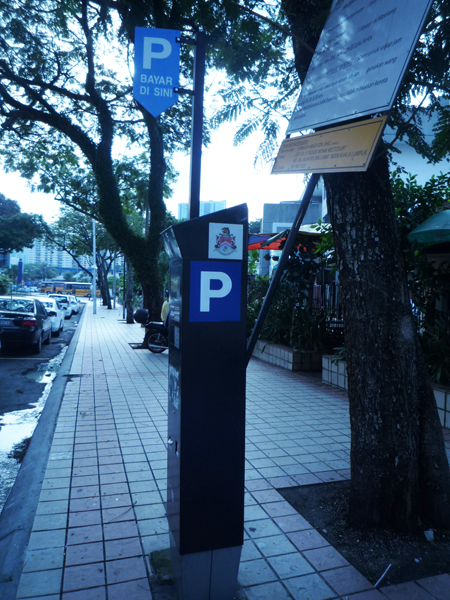 By then, I was already hot and bothered. It wasn't fun walking around carrying a baby, a diaper bag with phone to my ear; at the same time being vigilant for snatch thieves and acid throwers and what have you.
But yes! I made a report (albeit in an irritated tone! well, they should have picked up the phone!) and the next morning, I parked at a similar spot and the machine WAS working.
**************************************************************************
Who is Mamapumpkin?
Mamapumpkin spent 7 years in London committing crimes to gain her Bartlett BSc in Architecture. She spent 7 years as a Stay At Home Mom raising her children as documented in this Mamapumpkin blog since over 10 years ago and thereafter returned to the Corporate World stronger than ever. Her last job as Country Director of a British Railway Signalling organisation saw her getting ill with an aortal and mitral heart valve regurgitation and early stage cancer. Through her journey from working to not working to working again, she sets out to prove to all women that they can do anything and everything that they set out to do; as long as they have that fire of desire burning within and the drive to work hard. Even better with oodles of love, passion and integrity.
Despite being ill, she has grown a network marketing business from very little knowledge and experience in the otherwise infamously known MLM (Multi-Level Marketing) industry, racing from an income of ZERO to RM 100,000 monthly in merely 2 years. She is a firm believer of the MLM business model but realises the pitfalls too and understands how and why the majority of people would shy away (or zoom far away) from any MLM business.
She is now pondering the title of her new book, From Zero to 100,000 RM monthly in 2 years and has a sequel in the pipeline with the aim of helping real professionals succeed in the World of MLM. Always the giver, Mamapumpkin has supported orphans for over 30 years and has now extended her care to the sick, single mothers, and even struggling families. She believes that with the MLM business model, we can all have a life of our own desires to enable real contribution into the world.
A beautiful life without limits.
Mamapumpkin currently manages the
Homeschooling Hub Malaysia on Facebook
. She also runs
Working Women Malaysia
(not THAT kind of Working Women!),
Mamapumpkin - Creating A Life of Abundance
, and Funky Moms on Facebook to offer REAL support to all women who want career and life success. She is a living testimony that women really can have a lot. Being financially free has enabled her to travel the world anytime anywhere doing anything, and she spends most of her day to day with her children, reading and supporting other women.
For enquiries, please contact her at mamapumpkin at gmail dot com or WhatsApp her at +6012-2333840
Show your support and spread the love!