Every year, Nana fights with Mother's Day in order to celebrate her birthday. Perhaps it is apt that her birthday falls in line with Mother's Day because what a Mother she is!
I asked Tok-Tok recently why he loved her, a simple uneducated 'kampung' girl…. and he said that she was an incredibly amazing woman. Sophisticated, sensuous, truly remarkable. Even from such a young age. He is right. She is. Words cannot do justice on why I even think that but let me share a story with you that my Mother recently shared with me.
When I was a baby, my mother was the house maid for 11 people (because my biological father had left us). My grandmother would lock me up in a room downstairs and made my mother do all her chores before she could see me, her baby. She was only allowed to see me when it was feeding time, for a very brief period, just to feed. All day, I would be stuck in the play pan in a room all by myself wailing and wailing and wailing whilst my mother RUSHED her housework as best she could (and perhaps this is why she is so good at it!) just so she could finally have her own baby in her arms. It was pure AGONY for her to hear her baby crying and crying and crying, yet there was nothing she could do except finish up the housework to my grandmother's standard (which was very high as she was a sterile nurse), get all the laundry done, iron all the clothes et al before she could have access to her own baby. Her own little screaming baby. It's amazing I still have my vocal chords. How cruel!
Every single day after her chores, she would run to me and carried me to her room without even bothering to shower first as all she wanted was for me to stop crying. And then she would cry together with me alone seated in a  little corner. One day, one of her brothers came into the prison where I was, to play with me for awhile so I would be quiet. This was when my grandmother was out, of course. Otherwise, no one dared disobey Grandma.
And when she was telling me this story, her voice was slightly jittery. If you knew my mother, you would know how she never cries, how she is a woman of steel, how she can be unfazed with the most traumatic of events and how she is a sea of calm even if her son crashed her car (haha, brother are you reading this?). Seriously, my mother is a lady who can take on a lot without tears. Like when she first discovered she had cancer. It was all the rest of us who were crying, not her. She was just making jokes out of the situation. That's my mother for you. So for her to have a jittery voice, it was obviously something that had a real impact on her. And naturally, when she told me, tears flooded down my pastel cheeks as I imagined T2 being locked away from me crying for hours on end. How cruel!
I don't think I would have stood for it for I don't know how long but in those days, you just did not disobey your mother. But the abuse and torture was so bad that eventually, after months of heart-felt anguish, my mother ran away with me, her baby – the only other person in the world who loved her.
And this is when she started her new life……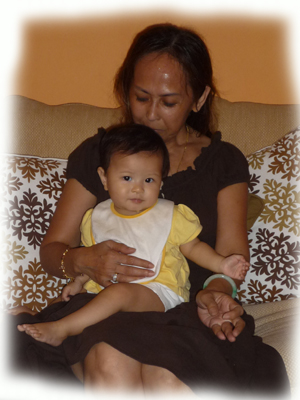 And there came us, her new family. Her own family.
To this day, my mother does not have a relationship with her mother but she does respect her by buying her jewelery and ensuring she is OK. Apart from that, nothing. They don't talk short of the very banal monologues. I used to think that if only she would forgive her own mother for what she had done, perhaps she would have a better life and not have cancer. But when her own brothers who were there to see for their own eyes how my mother was abused, don't even suggest to her that she should form a relationship with my grandmother, I realise how much more had happened and how it is perhaps almost impossible to forgive. And even if my mother has forgiven my grandmother, she has certainly not forgotten. It is not something one forgets easily. Even after more than half a century.
So today, we celebrated Nana's birthday with her loved ones.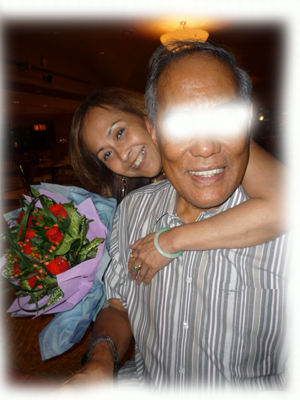 Tok-Tok's eyes blurred out cuz my camera gave him the red eye effect and he looked like a monster.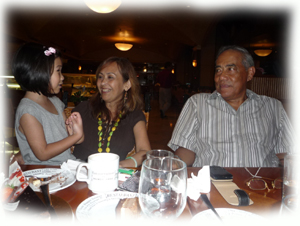 No prizes for guessing who the entertainer of the evening was!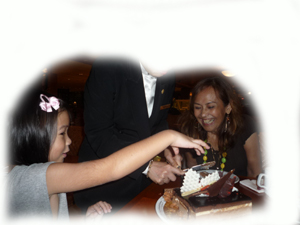 Doesn't she look happy?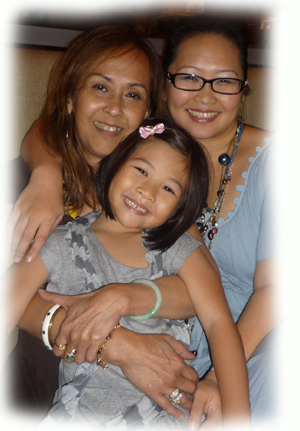 HAPPY BIRTHDAY, NANA. You're home with us now……..
Our wish for you is that you continue to fight this cancer that has taken half your teeth away, tens (maybe hundreds) of thousands of dollars into the medical profession , pharmaceuticals and air tickets, this cancer that disables you to eat properly so that you have to depend on yogurt and Haagen Daz, that disables you to talk or even move sometimes because you are in so much pain despite the morphine, which sometimes removes your will to live and continue the fight; our wish is that you conquer this. So you live long enough to see ME become a grandmother. I frigging kid you not.
**************************************************************************
Who is Mamapumpkin?
Mamapumpkin spent 7 years in London committing crimes to gain her Bartlett BSc in Architecture. She spent 7 years as a Stay At Home Mom raising her children as documented in this Mamapumpkin blog since over 10 years ago and thereafter returned to the Corporate World stronger than ever. Her last job as Country Director of a British Railway Signalling organisation saw her getting ill with an aortal and mitral heart valve regurgitation and early stage cancer. Through her journey from working to not working to working again, she sets out to prove to all women that they can do anything and everything that they set out to do; as long as they have that fire of desire burning within and the drive to work hard. Even better with oodles of love, passion and integrity.
Despite being ill, she has grown a network marketing business from very little knowledge and experience in the otherwise infamously known MLM (Multi-Level Marketing) industry, racing from an income of ZERO to RM 100,000 monthly in merely 2 years. She is a firm believer of the MLM business model but realises the pitfalls too and understands how and why the majority of people would shy away (or zoom far away) from any MLM business.
She is now pondering the title of her new book, From Zero to 100,000 RM monthly in 2 years and has a sequel in the pipeline with the aim of helping real professionals succeed in the World of MLM. Always the giver, Mamapumpkin has supported orphans for over 30 years and has now extended her care to the sick, single mothers, and even struggling families. She believes that with the MLM business model, we can all have a life of our own desires to enable real contribution into the world.
A beautiful life without limits.
Mamapumpkin currently manages the
Homeschooling Hub Malaysia on Facebook
. She also runs
Working Women Malaysia
(not THAT kind of Working Women!),
Mamapumpkin - Creating A Life of Abundance
, and Funky Moms on Facebook to offer REAL support to all women who want career and life success. She is a living testimony that women really can have a lot. Being financially free has enabled her to travel the world anytime anywhere doing anything, and she spends most of her day to day with her children, reading and supporting other women.
For enquiries, please contact her at mamapumpkin at gmail dot com or WhatsApp her at +6012-2333840
Show your support and spread the love!