1. What makes you cry?
Knowing my loved ones are sad makes me cry. When I was pregnant, everything made me cry. Sad stories, unfairness in the world, when someone dies, when my girls won't stop crying…..Someone once said that when God was giving out sensitivity and emotional pills, he accidentally gave me an overdose (and my husband will attest to this) and I said, well, better to feel than to be a cold turkey!
2. What is your favourite movie of all time?
Hmmm…..Beaches (Bette Midler) for friendship, When A Man Loves A Woman (Andy Garcia) for love, Stepmom (Susan Sarandon) for Mom's cancer, Gone With the Wind for romance, Annie for my childhood…..shit, I just love too many movies! Moving on….
3. What songs genre do you enjoy?
80s without a doubt
4. What was the stupidest thing you've done when you were so terribly in love?
Gave up a 1 month architectural field trip to India to be with my then boyfriend in London instead. And thus till today, I've never been to India and possibly never will! What a fool!
5. When did you get married?
When I was 28 years old.
6. Where did you get married?
Kuala Lumpur, Malaysia in one of the oldest hotels within the Golden Triangle; and I also got registered at Thean Hou Temple although I'm Christian. For that day, I was Buddhist 🙂 It was a great wedding!!! And we'd like to do it again someday, just an excuse for another great party!
7. Which physical feature do you like best about yourself?
I shudder every time I look into the mirror so it'll have to be my heart and my brain.
8. What is your typical breakfast like?
Coffee or Milo with oatmeal, home baked bread and butter, fruit salad, muesli with fruit or cornflakes.
9. How many pairs of shoes do you own?
Hahaha….before I had Tee, about 80 pairs but my feet grew after pregnancy so I gave half away to my aunt and cousins of the same sized feet. Just before I became pregnant with T2, I gave another 20 pairs away short of the designer labels (of which many are in perfect condition as I hardly used them). I just cannot bare giving those away yet….they serve as a memory of my corporate working life! Although truth be told, I'll probably never wear them again as I can't even fit into half of them! Yet, who's going to pay me RM1,000 for a pair of Chanel shoes when I bought them for RM3,000? My Mom knows I'm crazy. I have pictures of them all and one day I shall post them up for you to see 🙂 And if you're wondering why I have photos of them all, it's because I printed the photos out to stick onto the shoe boxes so I could see them easily in deciding which pair of shoes to wear!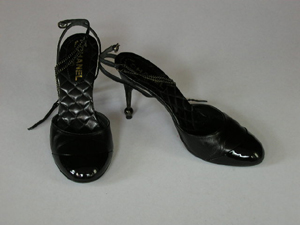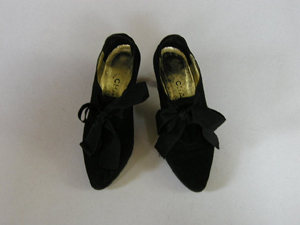 My Chanel Shoes – anybody wanna buy? Size 6 – but if anyone wants to buy me some new shoes now, it would be size 7 to 7.5 depending on cut.
10. What kind of books do you enjoy reading?
I read generally everything as I have a broad interest. It's more what I don't read i.e. Mills & Boons and romance stories bore me to tears. I like thrillers, sci-fi, supernatural, biographies, philosophies (gosh, I was forced to read so much of THAT at University!!! You know, they are so hard to read and I had to read every paragraph like three times or more before I could even comprehend what they were getting at!)), real life stories, childrens books, you name it…….
By the way, if you want to learn more about me, you can click 101 things about me.
**************************************************************************
Who is Mamapumpkin?
Mamapumpkin spent 7 years in London committing crimes to gain her Bartlett BSc in Architecture. She spent 7 years as a Stay At Home Mom raising her children as documented in this Mamapumpkin blog since over 10 years ago and thereafter returned to the Corporate World stronger than ever. Her last job as Country Director of a British Railway Signalling organisation saw her getting ill with an aortal and mitral heart valve regurgitation and early stage cancer. Through her journey from working to not working to working again, she sets out to prove to all women that they can do anything and everything that they set out to do; as long as they have that fire of desire burning within and the drive to work hard. Even better with oodles of love, passion and integrity.
Despite being ill, she has grown a network marketing business from very little knowledge and experience in the otherwise infamously known MLM (Multi-Level Marketing) industry, racing from an income of ZERO to RM 100,000 monthly in merely 2 years. She is a firm believer of the MLM business model but realises the pitfalls too and understands how and why the majority of people would shy away (or zoom far away) from any MLM business.
She is now pondering the title of her new book, From Zero to 100,000 RM monthly in 2 years and has a sequel in the pipeline with the aim of helping real professionals succeed in the World of MLM. Always the giver, Mamapumpkin has supported orphans for over 30 years and has now extended her care to the sick, single mothers, and even struggling families. She believes that with the MLM business model, we can all have a life of our own desires to enable real contribution into the world.
A beautiful life without limits.
Mamapumpkin currently manages the
Homeschooling Hub Malaysia on Facebook
. She also runs
Working Women Malaysia
(not THAT kind of Working Women!),
Mamapumpkin - Creating A Life of Abundance
, and Funky Moms on Facebook to offer REAL support to all women who want career and life success. She is a living testimony that women really can have a lot. Being financially free has enabled her to travel the world anytime anywhere doing anything, and she spends most of her day to day with her children, reading and supporting other women.
For enquiries, please contact her at mamapumpkin at gmail dot com or WhatsApp her at +6012-2333840
Show your support and spread the love!