For the longest time, I'd been holding out from buying the Wii despite seeing how much fun Tee has with it every time she goes to a friend's place.
But alas, her Nana bought it for her when she one day said, "All my friends have a Wii except me." And then pouted like a lost puppy dog. I instantly felt bile in my throat and wanted to puke.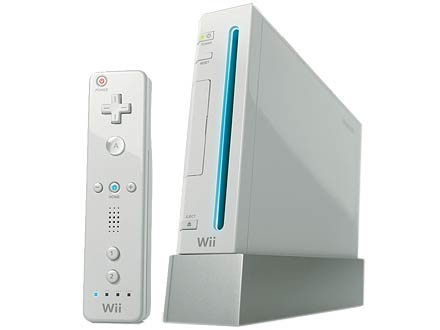 So the dreaded Wii is now sitting in my Mom's place as I have forbidden it in my house.
Last weekend, Tee went over to play some games. She is really, really good at boxing and works up a good sweat. Nobody has been able to beat her yet, not even the computer. I keep thinking that if we were to follow her moves, we'd lose some inches off our flabby arms but haven't dared try.
A few days later, Tee begged me to take her to her Nan's. It was a school day and inconvenient. She had finished school at 3pm, definitely too late to go to Nana's house. She begged and begged and begged for a few hours. I stood firm. No, simply means, no.
The next morning, my baby woke up in tears sobbing in her sleep. I was worried and asked if she'd had a bad dream. It troubles me when kids cry at the start of a brand new day. She said she really needed to see her Nana. I get really sensitive about things like that too because Tee is really close to her Nana and because Nana has cancer, Tee almost has this telepathic connection with her Nan that tells me Nana is not OK whenever she craves for her Nana like that.
So I sms'd Nana to ask if we could come over, even on a school day and she said yes. I told her Tee was crying for her but she could possibly be crying for the Wii. Let's be honest here.
After school, we headed off to Nana's and the moment Nana saw her, Nana teased, "Hello Darling! Are you here because you miss Nana or are you here for the Wii?"
"Of course, I miss YOU, Nana…." Tee replied sincerely.
We both expected her to rush the Wii set out but instead she brought out her workbooks and started doing them on Nana's coffee table. After half an hour, she was still doing her workbooks whilst chatting to her Nan.
Nana and I kept eyeing each other wondering what was up, we were so sure Tee wanted to play the Wii, yet she wasn't asking for it. And I'm sure it was out of sheer guilt.
I finally asked her if she wanted to play the Wii and her eyeballs flew out of it's sockets. The aura around her glowed with colours of the rainbow and then she got self conscious and nodded sheepishly.
We set up the Wii and she played for an hour before we headed off to a delicious Korean BBQ dinner, where she got to feed the fishes. The waiters adored her and kept giving her fish food, 3 packets in total to feed the fish.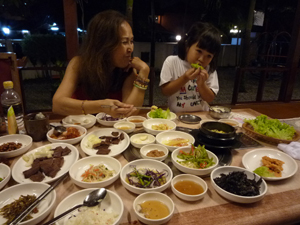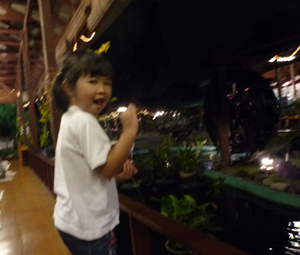 Finally, we came home and the Hubs said that our little angel, the devil in disguise, was as manipulative as a first class politician. Yup, she has been said to qualify as Secretary of State of the most powerful country.
That's Tee for you.
**************************************************************************
Who is Mamapumpkin?
Mamapumpkin spent 7 years in London committing crimes to gain her Bartlett BSc in Architecture. She spent 7 years as a Stay At Home Mom raising her children as documented in this Mamapumpkin blog since over 10 years ago and thereafter returned to the Corporate World stronger than ever. Her last job as Country Director of a British Railway Signalling organisation saw her getting ill with an aortal and mitral heart valve regurgitation and early stage cancer. Through her journey from working to not working to working again, she sets out to prove to all women that they can do anything and everything that they set out to do; as long as they have that fire of desire burning within and the drive to work hard. Even better with oodles of love, passion and integrity.
Despite being ill, she has grown a network marketing business from very little knowledge and experience in the otherwise infamously known MLM (Multi-Level Marketing) industry, racing from an income of ZERO to RM 100,000 monthly in merely 2 years. She is a firm believer of the MLM business model but realises the pitfalls too and understands how and why the majority of people would shy away (or zoom far away) from any MLM business.
She is now pondering the title of her new book, From Zero to 100,000 RM monthly in 2 years and has a sequel in the pipeline with the aim of helping real professionals succeed in the World of MLM. Always the giver, Mamapumpkin has supported orphans for over 30 years and has now extended her care to the sick, single mothers, and even struggling families. She believes that with the MLM business model, we can all have a life of our own desires to enable real contribution into the world.
A beautiful life without limits.
Mamapumpkin currently manages the
Homeschooling Hub Malaysia on Facebook
. She also runs
Working Women Malaysia
(not THAT kind of Working Women!),
Mamapumpkin - Creating A Life of Abundance
, and Funky Moms on Facebook to offer REAL support to all women who want career and life success. She is a living testimony that women really can have a lot. Being financially free has enabled her to travel the world anytime anywhere doing anything, and she spends most of her day to day with her children, reading and supporting other women.
For enquiries, please contact her at mamapumpkin at gmail dot com or WhatsApp her at +6012-2333840
Show your support and spread the love!