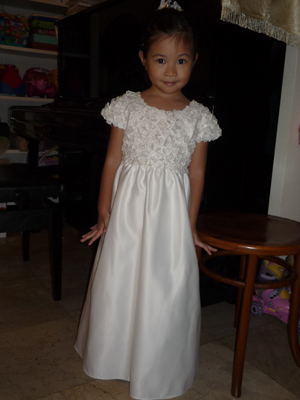 11am – all dressed for her first piano concert and ready to leave the door.
.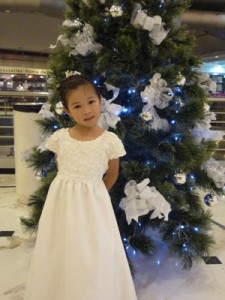 Stopped for a picture with the pretty Christmas Tree.
.
So the day finally arrived after weeks of me questioning Tee's piano teacher suspiciously, "Are you SURE she can play for a concert? Are you SURE she's ready? Are you SURE you want her to perform?"
Minutes before Tee's annual music school's concert began, I said a little prayer to God.
"Dear God, please hypnotise my darling Tee and make her follow her teacher's exact instructions to play the right piano piece on the grand piano today. Please remind her that it is the piano that she is meant to be playing, and not use it as a Ben10 hideout. Please give her the grace to walk straight to the piano to play her exact piece, named Night Scene, and not jump out front onto stage and start performing her Ben10 kungfu moves instead. Please grant her the confidence so she won't suffer from stage fright and start crying MOMMY at the piano or worse, start screaming I'VE ALWAYS HATED PIANO LESSONS SO I'M NOT PLAYING TODAY!! whilst kicking the piano, which we all know isn't true. Please, please remind her that she is playing a duet today, which means that she cannot burp or fart freely on the piano chair because the person beside her will smell it. And certainly, please remind her that she is wearing a gorgeous gown and should behave like a little lady. Amen."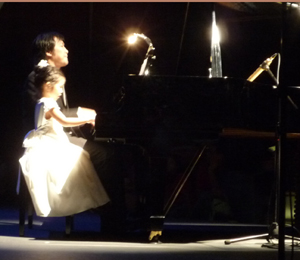 Tee performed her duet whilst I froze and held my breathe.
.
.
.
.
THANK YOU, GOD!!!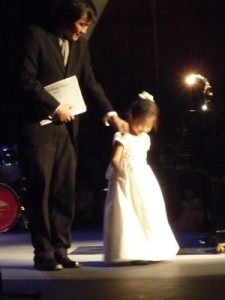 A gentle curtsy after her piano playing…..
Even I, a full fledged piano player (as in, I've done the shebang of pianoforte examinations and taught piano), have not in my entire life played on a grand piano before. And Tee got to play on one before her 5th birthday. Hhrmph..
Just for kicks, she was out of her pretty gown in a flash and on to her Ben 10 clothes whilst we celebrated in KLCC with new Ben 10 toys from some suckers who were mighty proud of her. And they weren't from me.
Show your support and spread the love!