What? You mean I have a new boss who demands me to do things? *gasp* It sure looks that way. Never underestimate size, people…….my new boss, she may be small, but she has lots of power.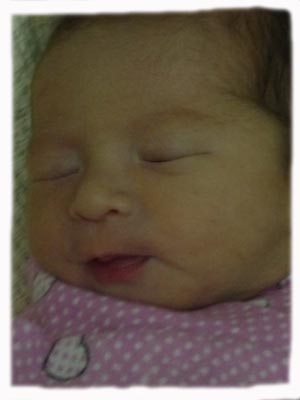 I can't believe I'm in confinement. It is the most boring prison sentence in the whole wide world. Plus my good friends from London are in town and I can't even take them out. How cool is that?! And I can't eat whatever I want.
If I ever, EVER, EEEEEVVVVVVEEEEEEERRRRRRRRR get pregnant again (touchwood this will not be happening), I will not get a confinement lady. I shall do as I please, intelligently.  🙂
To all you breastfeeding experts out there, I have some questions:
Why is my left boob significantly larger than my right? It looks rather bizarre and is making me quite self conscious although I haven't even been out to have a chance to be self conscious. I can only imagine though, people zooming in on my chest like I have a swelling the size of a grapefruit and then on the other side, a large ripe pomelo harvested from steroid fertilizers.
How do you ever remember which boob was the last side that your baby fed on? What would happen if your baby fed on the same side twice? Is this why I have a pomelo on one side? Would the other breast that is not fed on accumulate with milk then explode? I'm worried here…
Because I have a very small baby, her mouth is proportionately small and this makes latching on very, very close to the nipple underside. What happens if your nipple is larger than the size of your baby's mouth? I'm not saying mine is, I'm just wondering……Nevertheless, my nipples feel like they're on fire. Where would I buy a nipple fire extinguisher from? I won't pay anything more than RM10.
Can I drink Dom or Brandy if I'm breastfeeding? How much can I drink? What can I eat and what can I not eat really??? The Doctor says everything in moderation and that newborns are prone to having lots of wind anyway so it has nothing much to do with what I eat. What's your take?
I would be most grateful if you could shed some light into this new world (for me anyway) of breastfeeding.
Thank you.
Show your support and spread the love!