A couple of days ago, we went shopping for a new little Baju Kebaya (Malay costume worn on Muslim celebrations). Few reasons : Tee was having a Hari Raya Aidilfitri party at school, we were going Raya visiting this weekend, my parents are Muslims, she loves dressing up even if it's a potato sack over her head, and we wanted to give the kebaya lady some business. You know, since we're in the spirit of giving and sharing. Oh, and Tee wanted to go to surprise, surprise….Bangsar Village. She absolutely INSISTED that she didn't want to go home and needed to go to Bangsar Village because she had to go to the playground at Marco's, their new pizza joint.
Whilst casually browsing really cute baby kebaya designs, I heard her call out to me. What now. Does she really need a drink when I'd just started to enjoy my seconds of creative appreciation? Don't tell me she needs to pee. Oh God, please no. Maybe she just wants to ask me a question. Like why that man's moustache is so curly, or why don't we go to Toys 'R' Us now? Now, Mummy, NOW!!!
The little voice calling quickly ascended into a shrill squeal. It was clearly a sign of distress so Lordy, Lord, I obediently placed both my hands down by my sides and furtively peeped over to see what the matter was.
Little Missy was stood beside Little Boy manequin and they were holding hands. How sweet. When her eyes caught mine, they begged me to rescue her, and her body began to shiver and cry. Which is when I realised that Little Boy manequin, who was wearing a Baju Melayu (boy's version of the Malay costume), had his fake plastic hand dislodged, and it was being supported by Tee. Since the Baju Melayu is long sleeved, Little Boy manequin's hand was not entirely visible yet. Except that gravity was defying it's purpose of bodily attachments. Bit by bit.
Being the mean Mummy that I am, I curtly announced to Tee that she really shouldn't be touching things that don't belong to her in the first  place. And walked back to my cute baby kebaya array. Whilst spying on her, of course.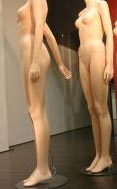 By which time, Little Boy manequin's entire arm had completely dropped off and Tee was holding onto it, screaming like a bloody lunatic, "MUMMY COME!!!! MUMMY!!!! I'm scared!!! MAAAAAMEEEEE!!!! MAAAAAMEEEEEE!!!!!" Listening to her shrieks of anguish alerted the shopping mall security, the local police, fire brigade and ambulance all at once. The whole shopping mall freeze-framed that second and a crowd of ten gathered around her, in response to her cries of distress. Then, they burst out laughing, pointing at her, so cute and so funny.
I ran and hugged her tight, and took the hand away from her. She grabbed onto me, koala style, sobbing that she never wanted to come to Bangsar Village again, and if we could please go home now. But before that, I told her we had to return 'the hand' and she had to apologise to the shop owner. Who looked at us as though we'd just pulled the head off the manequin. Then smiled with pity, of course, and told her it happened ALL the time.
I'm certain Tee was horrified with that piece of news and wondered if she'd have nightmares of crawling hands without bodies that night. I guess that was my cue to purchase twenty little kebayas on the spot.
Tee had surely learnt a new lesson that day and I've had no Bangsar Village requests since. 🙂
Who is Mamapumpkin?
Mamapumpkin spent 7 years in London committing crimes to gain her Bartlett BSc in Architecture. She spent 7 years as a Stay At Home Mom raising her children as documented in this Mamapumpkin blog since over 10 years ago and thereafter returned to the Corporate World stronger than ever. Her last job as Country Director of a British Railway Signalling organisation saw her getting ill with an aortal and mitral heart valve regurgitation and early stage cancer. Through her journey from working to not working to working again, she sets out to prove to all women that they can do anything and everything that they set out to do; as long as they have that fire of desire burning within and the drive to work hard. Even better with oodles of love, passion and integrity.
Despite being ill, she has grown a network marketing business from very little knowledge and experience in the otherwise infamously known MLM (Multi-Level Marketing) industry, racing from an income of ZERO to RM 100,000 monthly in merely 2 years. She is a firm believer of the MLM business model but realises the pitfalls too and understands how and why the majority of people would shy away (or zoom far away) from any MLM business.
She is now pondering the title of her new book, From Zero to 100,000 RM monthly in 2 years and has a sequel in the pipeline with the aim of helping real professionals succeed in the World of MLM. Always the giver, Mamapumpkin has supported orphans for over 30 years and has now extended her care to the sick, single mothers, and even struggling families. She believes that with the MLM business model, we can all have a life of our own desires to enable real contribution into the world.
A beautiful life without limits.
Mamapumpkin currently manages the
Homeschooling Hub Malaysia on Facebook
. She also runs
Working Women Malaysia
(not THAT kind of Working Women!),
Mamapumpkin - Creating A Life of Abundance
, and Funky Moms on Facebook to offer REAL support to all women who want career and life success. She is a living testimony that women really can have a lot. Being financially free has enabled her to travel the world anytime anywhere doing anything, and she spends most of her day to day with her children, reading and supporting other women.
For enquiries, please contact her at mamapumpkin at gmail dot com or WhatsApp her at +6012-2333840
Show your support and spread the love!