All to herself.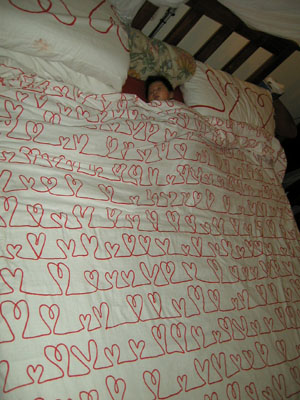 Yup. At my baby shower for what seems like eons ago, my dearest friends and family got us practically everything we needed (for our first newborn, including a beautiful walnut stained cot that was bigger than a standard cot and could take the weight of a hundred kilos, which really meant I could sleep in it if I really wanted to without smashing the floor through to the neighbours below. That's not all. This designer cot all the way from the land of tulips, or was it Denmark?, could also be converted into a bigger baby cot, then a toddler bed and finally an adult's day bed! It was a mother's dream come true having the perfect cot for a perfect baby…..)
All mothers who breastfed their babies (and I'm sure those who didn't as well) will tell you to shove your idealisms down the toilet the moment baby arrives. As much as I wanted our precious baby to enjoy her beautiful cot beside our bed, she had her own ideas.
Alas, after many nights of coaxing her that she really would meet magical fairies if she slept in her own cot and zombie nights for me, I succumbed to co-sleeping.
It happened like this, "Oh, just one night" I told myself on that first night. Then it was, "oh, a week wouldn't hurt. Maybe she's not well and needs to be close to me". Then, "She has colic. It kind of feels nice with her next to me anyway".
To those of you who wake up, walk into the next room, breastfed your baby, put her back into her cot, walk back into your room, shut the door and get into bed…..I worship the ground you walk on. I couldn't do it.
But now I know why you must. From sharing our Queen size bed which we subsequently did away with (gave away the bed frame and put the mattress on the floor) as it was getting too tight and the hubs and I both had our asses hanging off each side of the bed, we graduated to sharing a king sized mattress. At least then if our ass had to hang, we could at least spread a leg out onto the floor to support our weight through the leg on the floor.
There is nothing more disturbing than sleeping with your ass hanging out of a bed, especially if you have a big ass, which I unfortunately do.
A couple of months on, even the King Sized bed wasn't good enough as the hubs suffered from lack of sleep through contact with the sleeping octopus. She would get up in the middle of the night, sit up, mumble something with her eyes closed, then fall backwards back to sleep. Or she would get up eyes closed, crawl around the bed and thump herself forward into la-la-land. Sometimes she would even walk around the bed, with her eyes open or closed, then fall back into sleep. It was hilarious watching but also dangerous as we physically caught her with our hands a few times before she fell off the mattress. The hubs decided enough was enough and got himself a puffy sleep mat to put beside our king sized mattress and has slept there since.
Last night at 3am, I was concentrating hard on NOT falling off our mattress. The dimensions of a king sized mattress is two by two metres. I am only 1.53 metres tall and although quite wide, relative to the mattress size, occupy a quarter of it at most. The sleeping octopus is 80cm the last time I checked.
But last night, she squeezed me to the last 12 inches of the bed. Man!!!
My first thoughts were : we're doing sleep training in her own bed tomorrow.
Tomorrow has come but I'm just too tired to go through a few hours of mercy screaming so we give in to her yet again….
Perhaps I need to go get my own sleep mat.
**************************************************************************
Who is Mamapumpkin?
Mamapumpkin spent 7 years in London committing crimes to gain her Bartlett BSc in Architecture. She spent 7 years as a Stay At Home Mom raising her children as documented in this Mamapumpkin blog since over 10 years ago and thereafter returned to the Corporate World stronger than ever. Her last job as Country Director of a British Railway Signalling organisation saw her getting ill with an aortal and mitral heart valve regurgitation and early stage cancer. Through her journey from working to not working to working again, she sets out to prove to all women that they can do anything and everything that they set out to do; as long as they have that fire of desire burning within and the drive to work hard. Even better with oodles of love, passion and integrity.
Despite being ill, she has grown a network marketing business from very little knowledge and experience in the otherwise infamously known MLM (Multi-Level Marketing) industry, racing from an income of ZERO to RM 100,000 monthly in merely 2 years. She is a firm believer of the MLM business model but realises the pitfalls too and understands how and why the majority of people would shy away (or zoom far away) from any MLM business.
She is now pondering the title of her new book, From Zero to 100,000 RM monthly in 2 years and has a sequel in the pipeline with the aim of helping real professionals succeed in the World of MLM. Always the giver, Mamapumpkin has supported orphans for over 30 years and has now extended her care to the sick, single mothers, and even struggling families. She believes that with the MLM business model, we can all have a life of our own desires to enable real contribution into the world.
A beautiful life without limits.
Mamapumpkin currently manages the
Homeschooling Hub Malaysia on Facebook
. She also runs
Working Women Malaysia
(not THAT kind of Working Women!),
Mamapumpkin - Creating A Life of Abundance
, and Funky Moms on Facebook to offer REAL support to all women who want career and life success. She is a living testimony that women really can have a lot. Being financially free has enabled her to travel the world anytime anywhere doing anything, and she spends most of her day to day with her children, reading and supporting other women.
For enquiries, please contact her at mamapumpkin at gmail dot com or WhatsApp her at +6012-2333840
Show your support and spread the love!