Last Sunday, we attended a special Premiere Frozen Screening at TGV Cinemas at Sunway Pyramid which allowed the audience to sing along to the movie just like in a karaoke. It was so fun and the first time that children could actually make noise in a cinema instead of all the hushing. It was also the first time I'd seen so many little Queen Elsa's in my entire life.
TGV Cinemas are still doing this sing along Frozen movie screenings so if you have a little girl who's a Frozen and Queen Elsa fan, go!! They would love it. My T2 sure did. They are screening the Frozen sing along at selected TGV cinemas such as at One Utama and Sunway Pyramid amongst others.
Do go to the TGV website here to confirm Frozen sing along screening times at your nearest TGV Cinema.
I shall let the pictures speak for themselves:
Just look at my little Princess Elsa with her matching blue Hello Kitty hairband that she shamelessly asked to customise from Jo's Bowz. And Jo from Jo's Bowz kindly obliged and not only did she oblige with "I want a blue Hello Kitty Bow Hair Band", she also put T2's name onto it on the bow. I was thinking she already had a problem searching for blue Hello Kitty? Isn't Hello Kitty pink?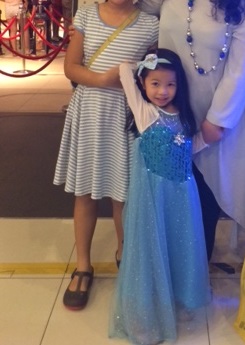 .
T2 got to meet our real life sized Queen Elsa but didn't want to stand with Elsa alone so I had to accompany her. Darn, I should've just donned my crystal embroidered Elsa gown, huh?!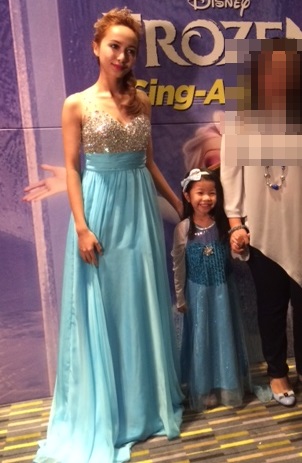 .
This little Elsa Anna was so cute in her red wig. We called her the confused Elsa!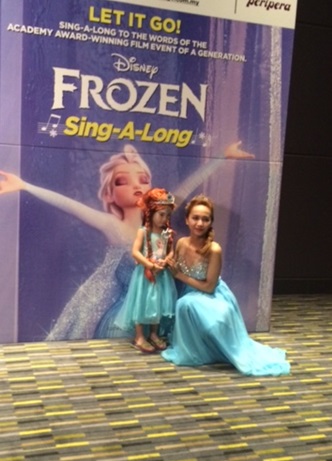 .
T2 got her nails painted in Elsa blue, but of course……it's also her new favourite colour, by the way. Turqoise-y blue…..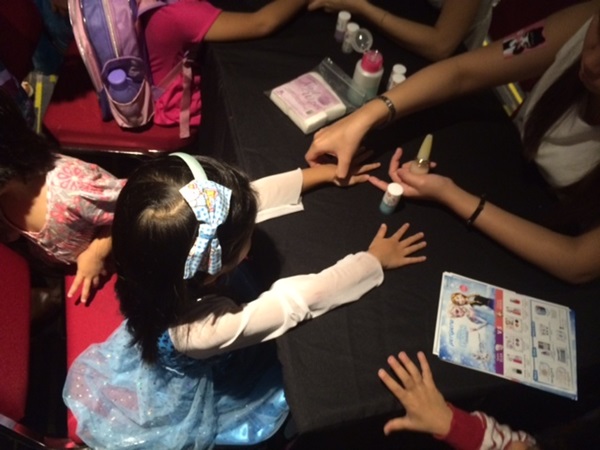 .
Every little Elsa received a party pack that included some Frozen paraphernalia and some gift vouchers (one of which came in handy to us – A brand new Elsa school bag!!!). So guess who will be traipsing into big school with it?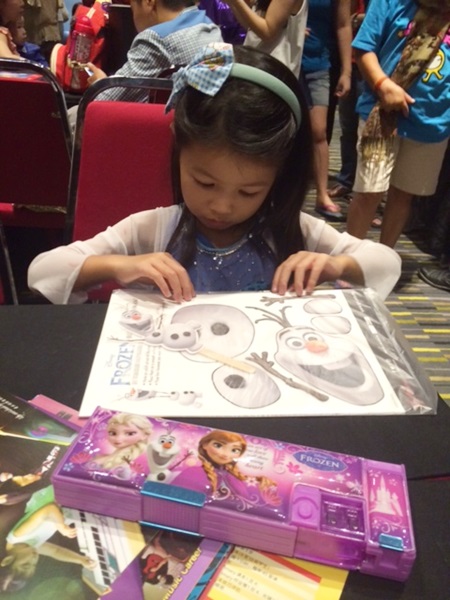 .
T2 spent some time checking out her party pack and did some drawing and colouring whilst waiting for all the other little Elsa's to get their nails and faces painted. She wasn't interested in getting any gunk on her face as she has been brainwashed to believe that she is beautiful just the way she is sans make up.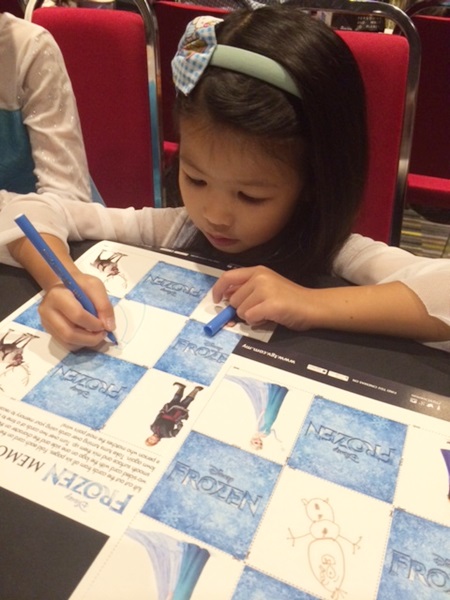 .
She was well chuffed with her new Elsa pencil case!!! Thank you, TGV!!! This is all packed into her new Elsa school bag and she's all ready for big school in January.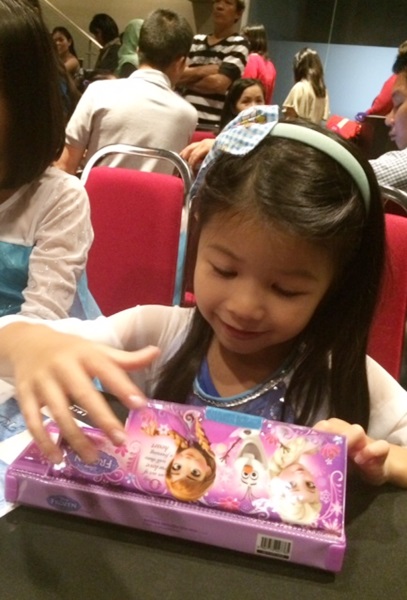 .
Finally, we made our way into the cinema to watch the Frozen movie but first, some introductions and for the first time, I saw my little shy, timid T2 voluntarily raise her hand in answering some questions. Some kids are so gregarious and confident like T1 but T2, she's a silent observer. So for her to interact with others, especially strangers, is a big thing. She is definitely on her way there into the big world. Slowly but surely.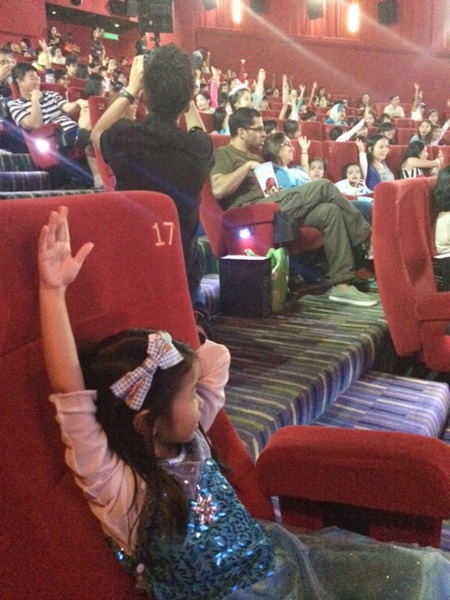 .
There was the Yamaha choir performing Let it Go before the movie began……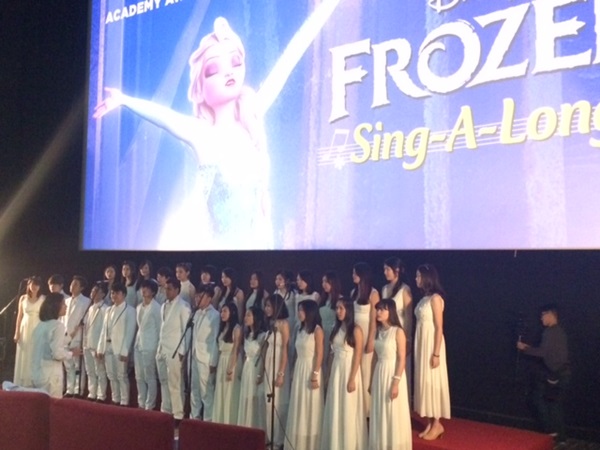 .
Followed by the Little Elsa's choir to the karaoke styled movie. For the first time ever, you can sing along to a movie in Malaysia so please take your little ones to go watch this sing along Frozen at TGV in 1-Utama or Sunway Pyramid (other cinema locations on the TGV website) because it is an experience in itself. Fun!!! T2 got off her butt to start dancing and singing…..and dreaming…..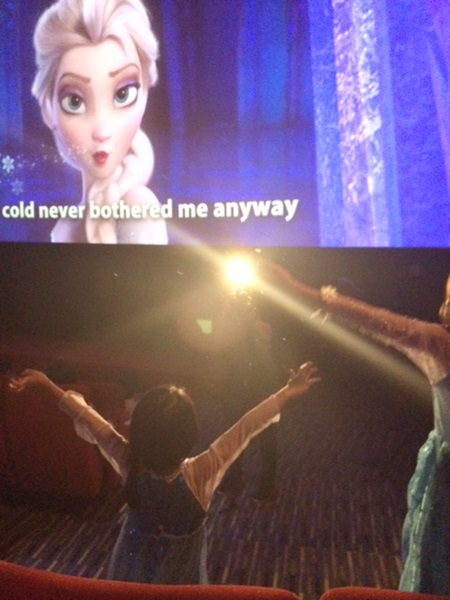 .
And to end with a bang, TGV surprised the little kids with snow!!!! Yes!!! Suddenly there was snow falling on everyone from up above and the kids went wild. I should've brought my umbrella.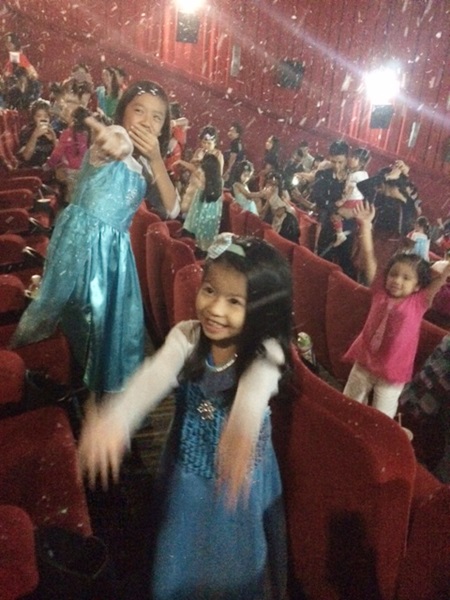 .
This was T2's mood after the event. She was on a high, dancing and singing, despite no lunch. From 10am till 3pm, all we had was pop corn!!! This I felt TGV should have advised so that we would have brought in our own lunch. These are children we are dealing with, not adults.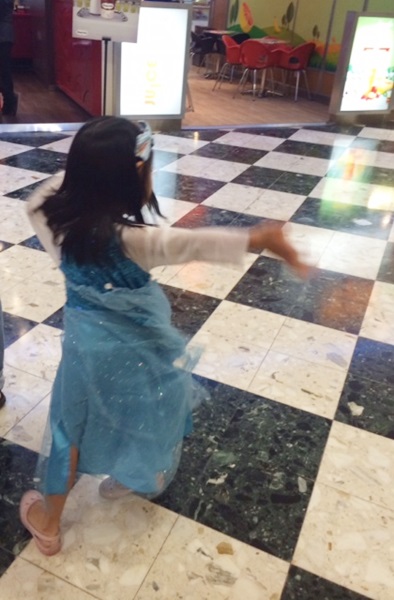 .
But she was fine really. The high of it took the attention off hunger. Still we dragged her into a restaurant to eat. Not one of her favourite past times, eating……so unlike her Mama.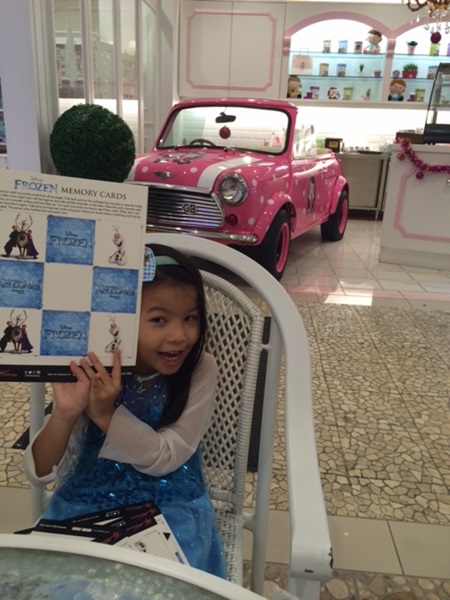 I repeat, if your child is a Frozen fan or even if she isn't, go for the experience of being able to sing along in a movie cinema. The lyrics are there so you don't have to know it by heart. Fun!!!