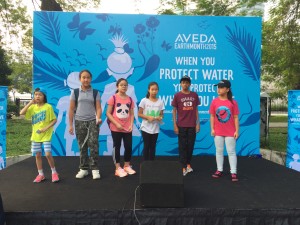 Every year, T1's school participates in the AVEDA Walk for Water and this year was no different. Whilst I was in Singapore for the weekend, the Hubs had to bring her at 7am to the walk venue and sort the kids out over the entire weekend. Go Hubby!!!
T1, the crazy girl, never informed us that she had to present on stage until they arrived there and the few kids were summoned on stage to present their water schpiel. Because she couldn't remember her lines, she had to read out of a piece of paper. WTH!!! That is embarrassing in the highest order!!! Hahaha. She was only given 2 days to memorise some lines and of course, either forgot about it or couldn't be bothered. What am I going to do with this child? I was discussing this with my SIL why T1 never told us and she said perhaps T1 knew we'd be on her case to memorise the lines and didn't want the pressure……
But come on, you are going to be presenting to the public, surely you want to present well without reading out of a piece of paper? Only 2 kids read out of paper whilst the rest spoke without reference to anything. I will ask her later why she did what she did. Maybe she really forgot. Would you make your kid memorise the lines if she was presenting in public? It's only a few lines and she is 10 years old. She is able to memorise Katy Perry lines so why not some lines on water conservation?
Back to the drawing board, we are all going to present and video ourselves today. Hahaha.